Browser compatibility is about how your website is displayed on different web browsers. This is much about user experience testing to ensure users have the same visual experiences and how it functionally behaves and responds the same way across different browsers. It is really frustrating when your website looks fine on one, but ruined on other browsers. And there are a lot of types of browsers and they have different ways of interpreting the codes.
I have my own way for this kind of situation. Check the web's stats. For example, according to Google Analytics for this website, the most used browsers are Firefox, IE, Opera, Mozilla Compatible, Safari and Chrome. Then I would manually view the web on different browsers. For IE special case, it has many versions, I use Tredosoft which enable to run multiple IE versions on your PC.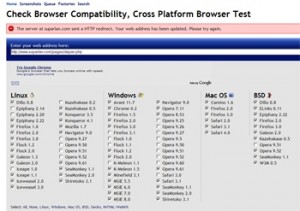 Maybe you don't want to install anything, or you want to know how it looks not only on different browser, but on different OS' too. This is very interesting, I found this site when Googling about cross browser compatibility. There are some commercial online services to check browser compatibility, but Browsershots.org is free open-source online service for website compatibility testing. Just enter the URL, select the browser and OS, and it will queue the screenshots. Now maybe you should try it to your website.